Justice concerns in HPSR and positive transformation
At the recent Global Symposium on Health Systems Research Sassy Molyneux and Seye Abimbola moderated a session organised by the Ethics and Justice Thematic Working Group. Nadia Tagoe, Kate Hawkins and Lynda Keeru report back.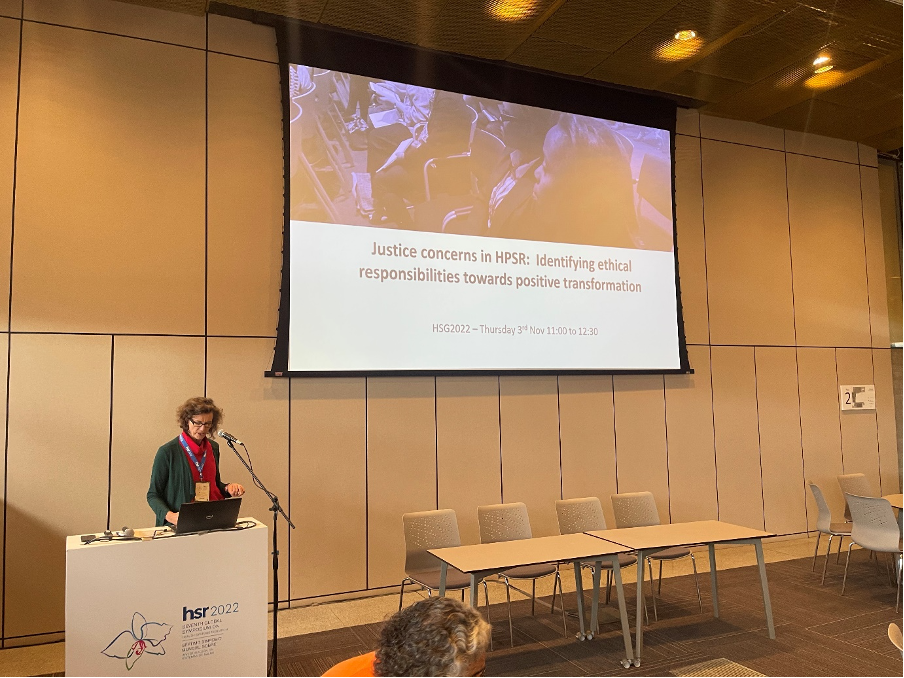 The session began with two recorded presentations by Bridget Pratt and Caesar Atuire on transforming HPSR from social justice and solidarity perspectives. Bridget covered using a multidimensional social justice lens which recognises wellbeing, recognition, power, inclusion, and harmony to confront the knowledge production crisis in global health.
She emphasised the need to be aware of and reduce unfair power relations and ensure that knowledge from the Global South is visible, valued and recognised.
Caesar shared on ways to operationalise solidarity in global health research by addressing three key solidarity gaps: conceptual ambiguity, epistemic justice and absence of tools for enactment. He proposed that this effort be guided by pluriversality in defining solidarity, convergence on actionable goals, and tools to measure these goals.
Nadia Tagoe, Seye Abimbola and David McCoy then shared examples of actions that can contribute to positive transformation in the field. Nadia focused on actions that Southern actors need to take to promote justice and decolonisation in Southern-led initiatives. She emphasised the need for reflexivity on power relations in Southern-driven consortia, interrogation of established research and consortium management norms, and being open to and committed to taking action to bring the required change even if deemed uncomfortable.
Seye gave five examples of measures being taken by journals towards transformation of the publishing space. He cited the use of a reflexivity statement to promote equitable authorship, increased use of reviewers from the research context during the peer review process, waiver policies for LMIC authors, increasing acceptance of qualitative research by journals and editors' ability to commission papers to promote pertinent discussions.
In his presentation, David advocated for the need to shift power in global health through decoloniality. He highlighted the need to do so across three dimensions: colonialism within global health (addressing power asymmetries) colonisation of global health (dominance and control of the global health system and narratives by certain actors), and colonialism through global health (using global health as a means of extraction, exploitation, and profiteering). He ended by emphasising that research should be both a scientific and political advocacy effort.
Group discussion
These presentations set the stage for participant discussion on opportunities to be leveraged and constraints to be navigated in seeking change in global health research. Participants emphasized the need to:
·    Discuss difficult issues in research more openly and develop guidance for everyday micro-processes that are critical:  e.g., differences in pay between medics/non-medics, between those in high- and low-income settings, and on how to ensure relationships within teams are as flat as possible to promote open discussion and reflection on power
· Advance these deliberations beyond the North-South dichotomies by using an intersectional lens and recognizing the complexity of coloniality and power dynamics among multiple actors
· Identify opportunities within HPSR for action on issues of social justice and decolonisation and the need to pay greater attention to political economy analysis (the P in HPSR)
· Widen the pool of reviewers for publications
· Establish principles around HPRS practice to guide engagement with research stakeholders similar to the established principles governing patient engagement
· For all actors to reflect on power and privilege – given intersectional drivers of power – and consider their role in making a difference
· Identify ways to bridge the resource gap between the global North and South as a way of addressing colonialism
· Structure research rigour to recognise research context and community engagement and ensure adherence with grant making and publishing decisions. Rethink what is meant by rigour and who decides what rigour is
· Consider structural constraints produced by institutional systems around ranking, journal preferences and academic promotions
·   It was noted that everybody can contribute and play a role in making a difference – we need to all reflect on our power and privilege vis a vis others, and how we might contribute to allyship.
Walter Flores and Manasee Mishra shared the final round of insights for the session. Walter's words were very inspiring; he spoke about indigenous health research ethics and their implications for social justice. He pointed out that supporting communities to fight for their own health rights through political advocacy is a more effective approach to HPSR.
Manasee shared on the need to engage elites in advancing social justice, noting that elites are often gatekeepers in social justice initiatives. These elites are drawn from privileged social groups of countries and they benefit from processes such as colonialism, industrialization and nation building. In order to navigate ethical minefields, Manasee recommended using established tenets in qualitative research such as reflexivity and triangulation to help in recognizing societal power structures and their effects. Participatory research methods can also be socially uplifting if power play in structures are recognized and mitigated. 
These final discussions pointed out that if ethics and justice is to be attained in HPSR, methodologies used in HPSR, micro-actions taken by stakeholders, and reflections on power and privileges should be critically considered.